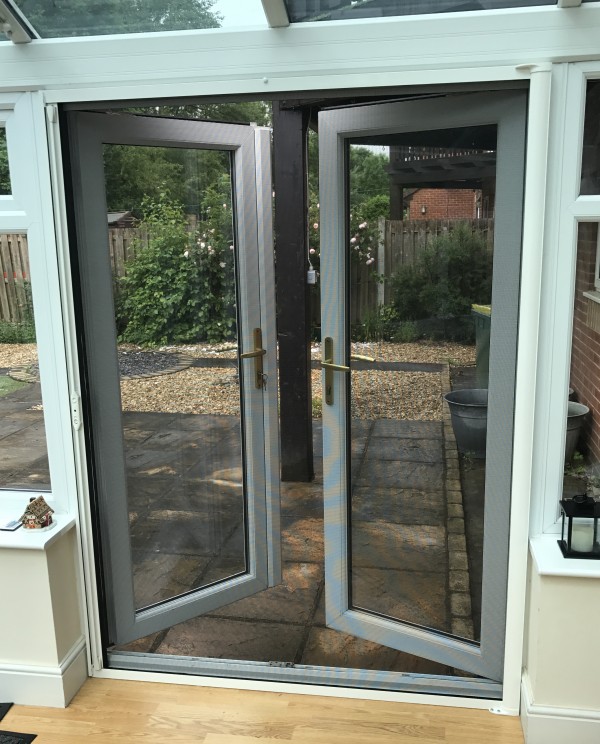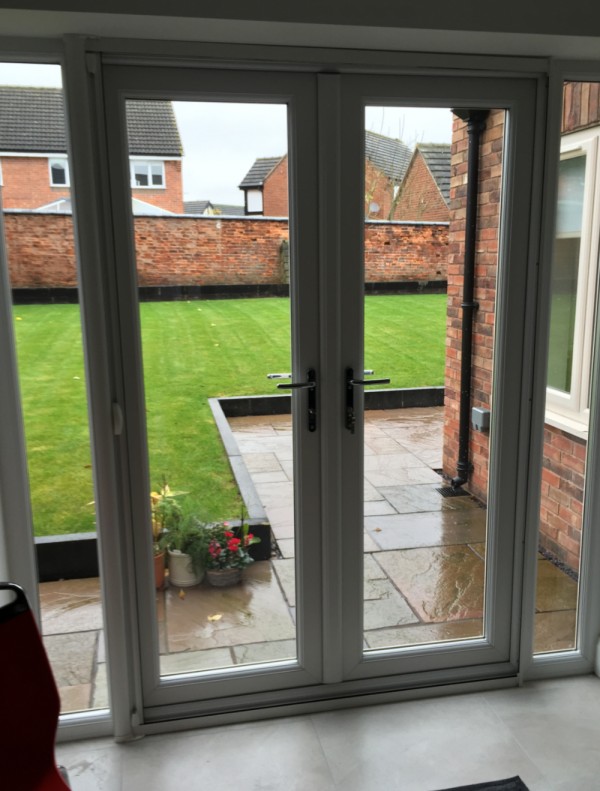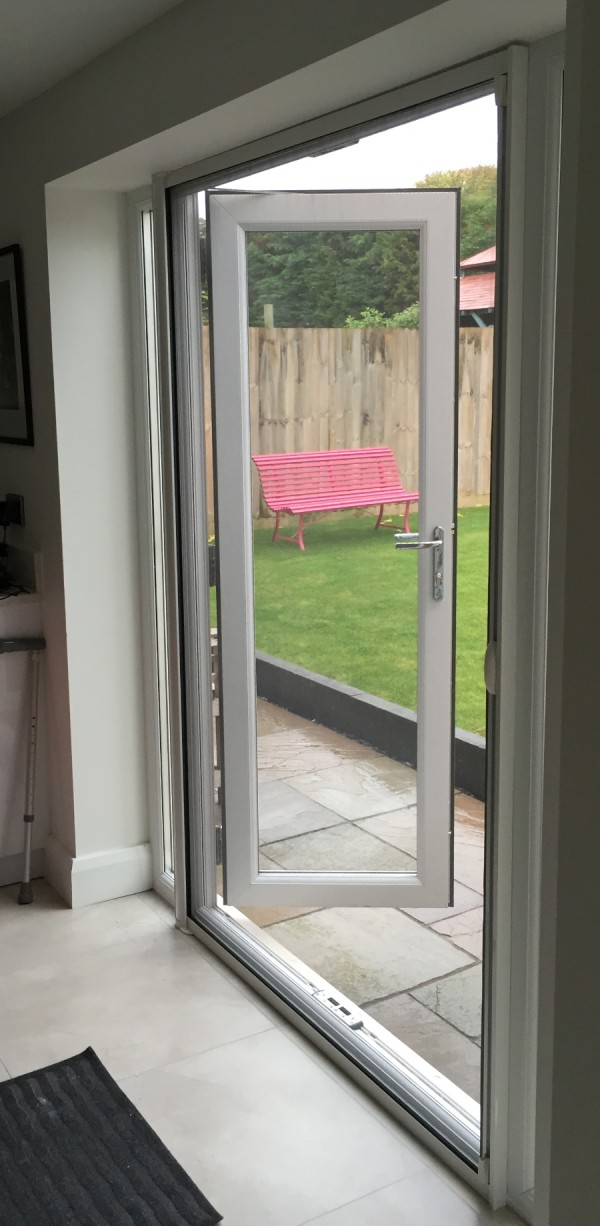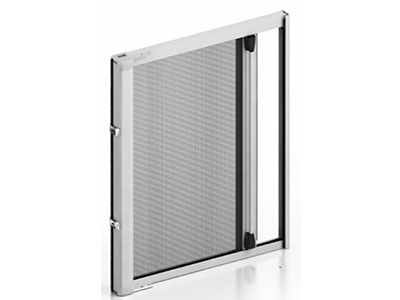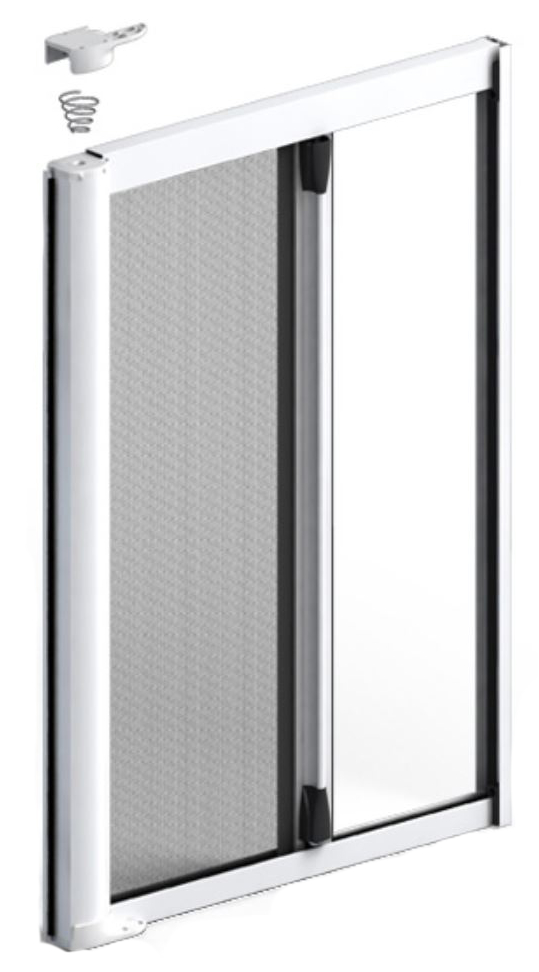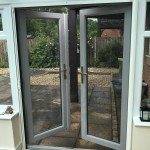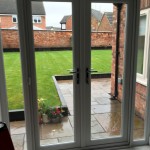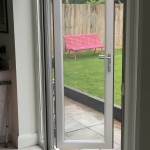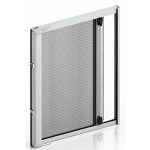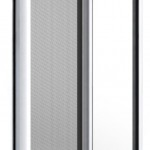 Single Roller Fly Screen Door
£185.00 + vat
Horizontal Single Cassette Roller Fly Screen for Doors
One of the most popular products that we sell at Premier Screens are our retractable roller fly screen doors. These contemporary fly screens can be custom made to fit every type of door imaginable ranging from sliding and bi-fold doors through to single, double and French or conservatory doors. They can be fitted inside or outside as they are manufactured from aluminium and are completely weatherproof.
Our retractable roller fly screen systems offer an excellent level of privacy whilst remaining easy to see through from the inside. As well as keeping out flying insects and other small pests they are also effective against reflecting harmful UV sunlight, and will also help to keep out the vast majority of airborne pollutants giving your rooms a more relaxing atmosphere.
Features of our roller fly screen doors include:
Spring tensioned mesh that resists sagging
Polyester coated frames that resist chipping and scratching
Decor grey mesh or charcoal mesh that doesn't block out the light
Option of 19/19 midge mesh to help keep out smaller flies
Retraction brakes are available to prevent the door from snapping back into the cassette
Unique centre catch so that the door can be stopped at a pre determined position
Option of wind pile for windy areas to keep the mesh in position
Adjustable end caps to allow for 15mm tolerance when measuring for reveal fit
Wheelchair friendly options
Stronger pet mesh available
Provides protection from UV light as well as insects that will help protect furnishings and carpets from fading
Suitable for openings up to 1600mm wide
The roller fly screen doors are really simple to install, the cassette will be pre-cut and built to your dimensions and along with the guides and magnetic enclosure, you simply slot the 4 components together as you install onto your door.
Enjoy the full benefits of a cool summer breeze on the hottest of days without the intrusion of harmful flies and insects.
The 'DESCRIPTION' tab below has the detailed explanation of the options available on the ordering section and the 'Fitting / Drawings / Specifications' tab has more detailed information downloads.

          ESTIMATED DELIVERY 2-5 WORKING DAYS
Description
Fitting Instructions / Drawings / Specifications
Description
MOSQUITO MESH

There is a choice of our standard mosquito mesh which has 18/16 strands which is sufficient to help keep out most types of flies, mosquitoes, wasps, bees, spiders etc and it is available in grey decor or black mesh. The darker the mesh then the easier it is to see through as less light is reflected off the mesh.

MIDGE MESH

The midge mesh has a finer weave of 19/19 strands and it will help to keep out most small midges, as well as the larger flies. This mesh has been specifically designed for use in our roller fly screen system with the aim of maximising air flow but helping to keep out the smaller midge type flies.

TOUGHENED MESH

Our toughened mesh now comes as standard on our retractable insect screen ranges which will help to protect against the occasional pet claw swipes.

The doors are not designed to keep pets indoors and as pets are individuals and we cannot guarantee that a pet could not get through the mesh and so we would recommend using additional measures to keep pets indoors and to let them get accustomed to the mesh screen.

FLUSH FITTING PROFILES

Face fit – this option is where the screen will be installed directly onto the door frames

Reveal fit – the door will be installed into the recess surrounding the door

SUNOX MESH

All our roller fly screen ranges now come with Sunox mesh as standard which is naturally antibacterial. Sunox mesh filters the air, preventing the formation of germs and bacteria and reducing the presence of polluting particles in the air.

REVEAL INSTALLATION

The reveal fit option has the end caps and spring that will allow for a 15 mm tolerance on your measurements.

BRAKE SYSTEM

The brake system slows down the retraction of the mesh which enables you to let go of the mesh and let it retract automatically without it snapping back into the cassette, this helps to prolong the mesh life and protect it from damage.

LIFT UP BASE BAR

This option allows you to raise the bottom guide track to leave a flush entrance/exit, especially useful if you need wheelchair access. Please note that the standard lift hinge will be for a right hand fit door, you can request a left hand hinge on the order page under 'delivery instructions'

INTEGRAL BRUSH PILE

The side guides have an integral brush pile which ensures a complete seal with the insect mesh so no insects can pass through, the base guide is 23 x 22mm as below

WIND PILE

If you live in a windy area then consider having our interlocking wind pile installed, the filaments lock into the mesh to hold it in position

EASY GLIDE WHEELS

Wheels at the base of the roller to make it easy to pull out and retract the mesh

MAGNETIC CLOSING SYSTEM

Full height magnetic strips ensure both the double and single rollers stay firmly closed

CROSS SECTION OF THE STURDY PROFILES

3mm aluminium sections making our profiles the strongest on the market.

PRE CUT

All of our screens come pre cut to your ordered dimensions, no need to reach for the saw!

VIDEO

Click on the image for a short video on the roller fly screens for doors

MEASUREMENTS

Click Here for instructions on taking measurements for your roller fly screens
REVIEWS
Fast Delivery I purchased 5 roller fly screens with pollen mesh in for our bedrooms, they arrived within 3 days, really easy to install, look and work great. I'll definitely be getting some more for downstairs.

Magnetic Screens Very pleased with the magnetic fly screens, easy to install and take down.

Roller Door Very pleased with the quality, perhaps should have chosen the grey mesh as the black is almost invisible

Hinged Panel Screens Easy to fit very effective

Magnetic Screens I purchased these screens with the pollen mesh option and am very pleased with the quality of the frames and mesh, super fast delivery

Roller Fly Screens Super fast delivery of an excellent product that was a breeze to install, highly recommended.

Chain Fly Screens Fast delivery, made to measure, keeps out the flies!

Great Product I have seven windows in my top-floor apartment and wanted to have fresh air without the flies that often accompany open windows. I found this company on the web and decided to order three three screens as a trial. They arrived within three working days. Assembly of the frames was simplicity itself; even getting the mesh tight in the frames was quite easy. Attaching the magnets to the window frame can be tricky if you have secondary glazing or decorative trim but the product is very well-made and feels solid, not cheap or low-quality. I can highly recommend these screens.

The team successfully installed a roller screen for our windows as they are the best solution for our flat and occupying the minimum space available.

I want to congratulate the candid and responsive staff of Premier Screens Ltd for their expertise and capability. I was advised on the best screening solution for my business.

Premier Screens Ltd delivered a durable solution of getting rid of flies and mosquitoes, excellent product

We had a pleasant experience in the process of choosing and installing the screens at our commercial site.

The staff were very polite and really careful ensuring that no damage was done during the installation process. The quotes are reasonable, and customer service is splendid!

Premier Screens offered several options for our windows, and with their help we choose the right one. The mesh material used was of top quality, and customer service is un-matchable. Their staff were very knowledgeable and provided the best solution for our home. Thanks.

All I can say is flawless service, as our busy commercial kitchen required a sturdy, high-quality screen for flies and insects. Premier Screens helped us with all the advice we needed to make our working environment safe, comfortable, and insect-free. They provide us with a comprehensive solution that is entirely compliant with the Food Standards Agency guidelines. Big thanks to the entire team!

Great Product Magnetic fly screens delivered really fast, easy to install, look great. Not the cheapest option but high quality.

Fast Delivery I ordered 5 roller fly screens and they arrived within 3 days! Excellent product very pleased.

Happy Customer The double roller fly screens doors look great on my conservatory, very happy!

I ordered a double roller fly screen door, it arrived in 3 days and was very easy to install. It looks very good quality, and if we get a summer, will keep the flies out!