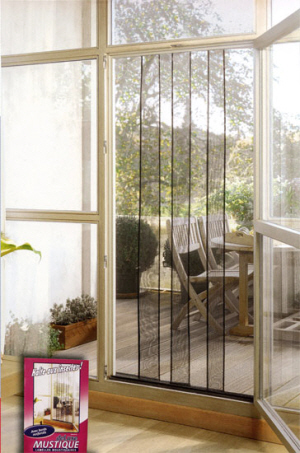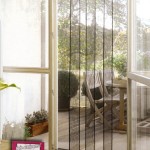 Strip Mesh Fly Screen Doors
£140.00 + vat
Our elegantly designed strip mesh fly screen doors have been developed specifically with residential homeowners in mind and they are also an excellent choice for boats, caravans and motorhomes. They are well-suited for any residential or holiday home where the amount of foot traffic is going to be quite low in comparison to busy retail outlets and industrial premises.
Supplied in affordable and easy-to-install DIY kits, the insect mesh fly door strips will fit openings up to a maximum of 1000mm wide and 2100mm high.
Strip mesh fly screen doors are ideal for home use as children and pets can easily walk through them and they simply fall back into position to keep out harmful flies and insects which can be a nuisance in hot summer months.
Description
Fly Screen Door Panels
In addition to keeping out all types of flying insects, including mosquitoes, bees, wasps and midges, the strip mesh fly screen panels featured in our contemporary product line will also block out harmful UV rays without deflecting visible light. They also provide a good level of privacy without affecting your view from the inside out.
Available in a grey décor mesh and made to the highest of standards in our UK based fly and insect screen manufacturing facility, our made to measure fly and mosquito mesh strip doors for patios and conservatories are a best seller for homeowners.
As well as being incredibly quick and easy to install, our strip mesh door panels themselves are also easy to remove which allows for simple cleaning by means of vacuuming.
Domestic Strip Mesh Fly Screen Doors
What will I receive in the Kit?
Each kit comes with all the components to build a screen to the maximum or smaller dimension
A UPVC header rail which you will secure to the head of your outer door frame with the screws provided
Two UPVC clamping rails which will hold the mesh strips in place
Four strip mesh fly screen panels in a grey décor mesh, each have soft sewn edges and weights that are sewn into the base of the strip, so that they cannot fall off and to keep it in place when walked through
Full instructions on how to assemble the screen
DOMESTIC STRIP MESH FLY DOOR
Mesh fly screen strips that hook onto carrier to form a continuous barrier that fall back into place when passed through. They are suitable for doors up to a maximum of 1000mm wide x 2100mm high and can be easily trimmed to any smaller size required
Assembled and installed in minutes
Sewn in weights that can't fall off
Ideal for domestic doorways
Pet friendly, easy for pets to walk through
Easy to remove for cleaning
Other products like this one