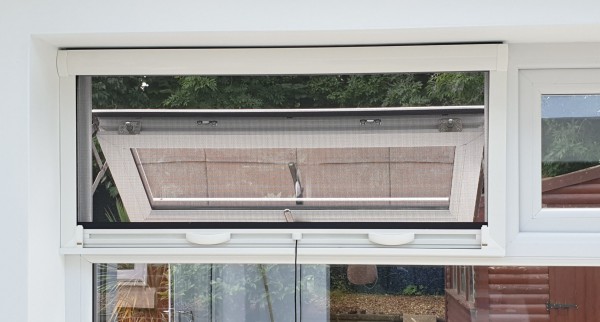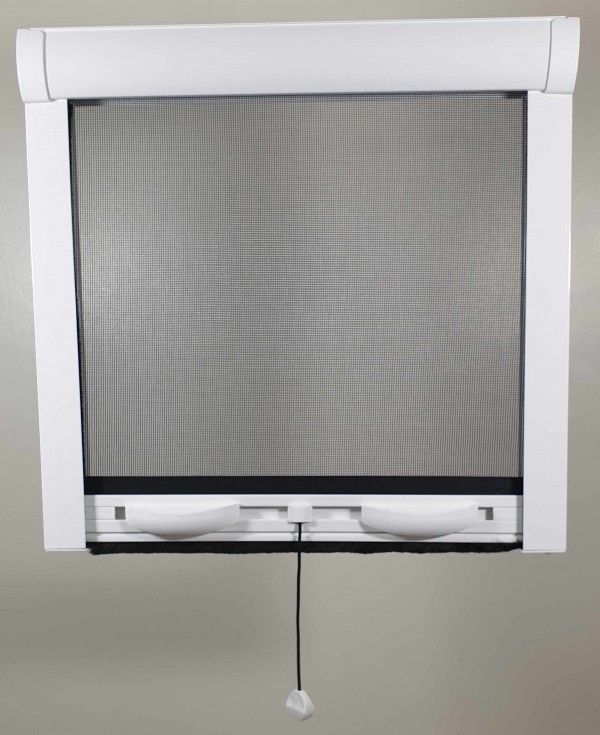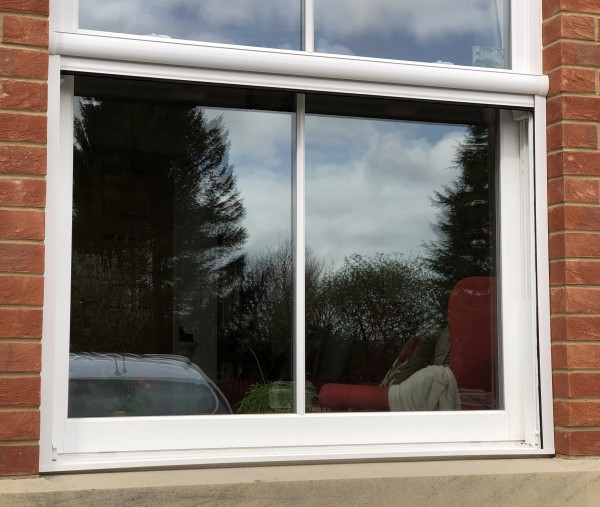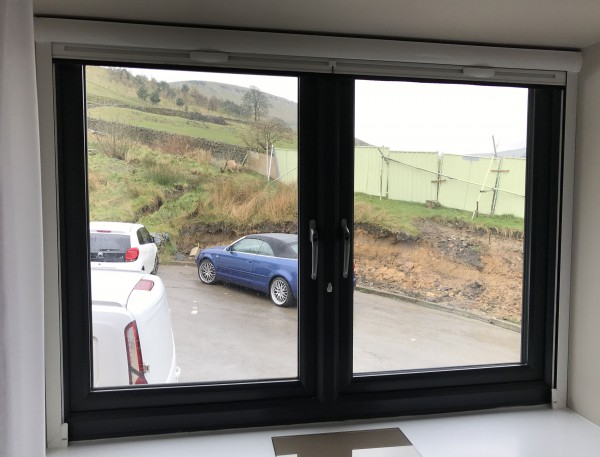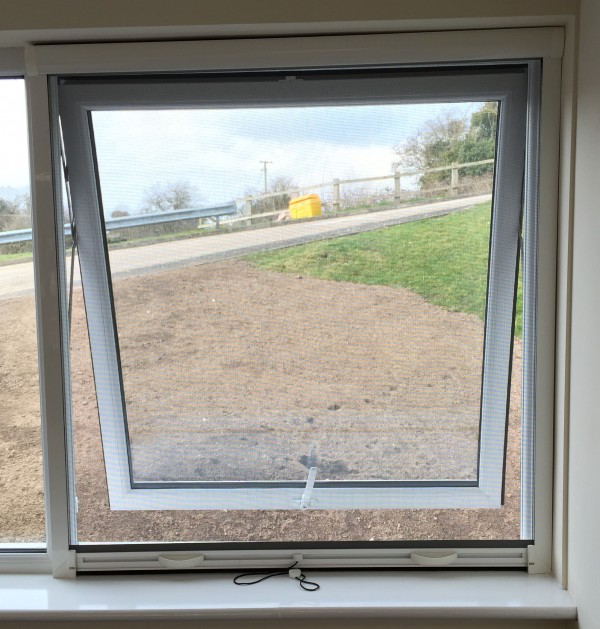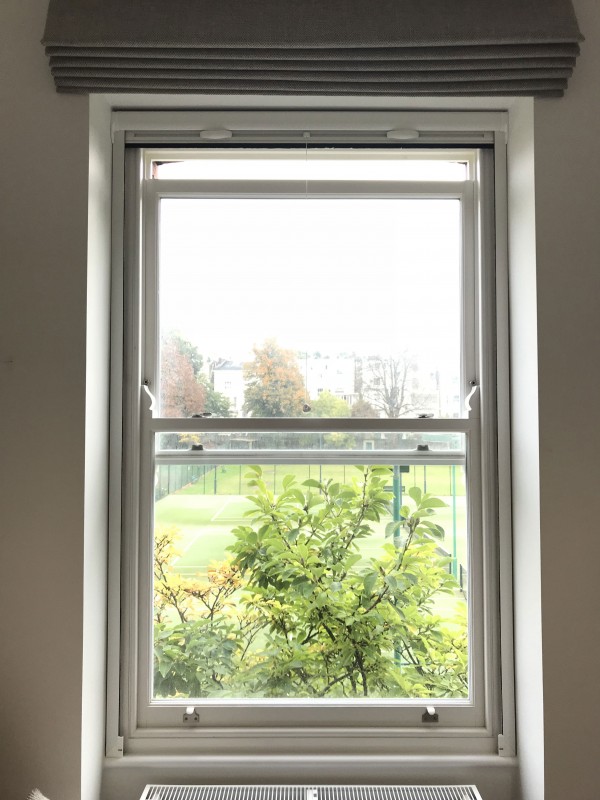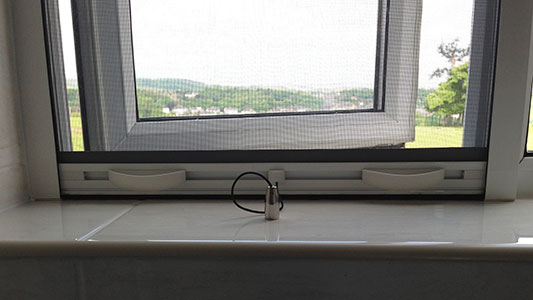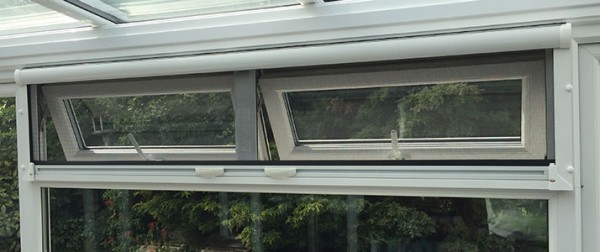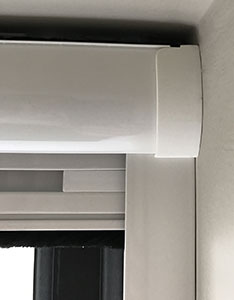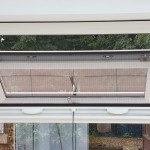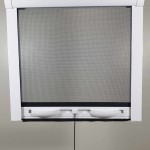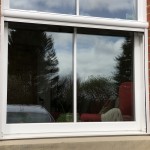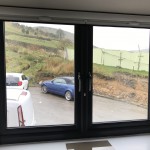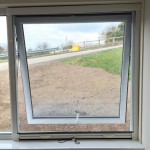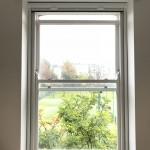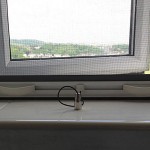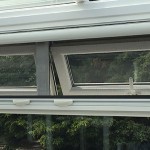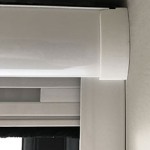 Roller Fly Screens for Windows
£50.00 + vat
Premium grade, attractive roller fly screens that can be easily retracted away from sight when they aren't needed, our Italian designed retractable fly screens are the perfect choice for homes and businesses and are one of our biggest sellers.
Providing a high level level of functionality and protection our bespoke roller fly screens will help to stop any flies, wasps, mosquitoes or spiders from entering your home during the summer months – and they can be simply rolled up in the winter when daylight is scarce and insects are much less of a problem.
The roller fly screens will blend in seamlessly with your existing window frames making them almost invisible.
Enter the overall finished size required for an instant quote

         ESTIMATED DELIVERY 2-5 WORKING DAYS
The 'DESCRIPTION' tab below has the detailed explanation of the options available on the ordering section and the 'Fitting / Drawings / Specs' tab has more detailed information downloads.
Description
More Info
Fitting Instructions / Drawings / Specifications
Description
ROLLER FLY SCREEN

Retractable roller fly screens, slimline 40mm cassette housing up to 2300mm of mesh to suit all window types. The pull down bar creates the seal with the window sill as it has an integral brush pile, and if you don't have a sill then we can supply base bars to create the seal. The roller fly screen system can be installed directly onto the window frame or into the window recess (reveal install)

EXPANDING END CAPS

There is an option of 2 end caps. The face fit option has the slim end cap with no visible lugs and the reveal fit option will have the screw lugs and our unique expansion spring. This enables you to reveal install and allow up to 15mm tolerance in the dimension, no worries about getting the exact measurement as it will expand into the opening!

VELUX FLY SCREEN REVEAL INSTALL

If the velux window is top hinged and opens outwards then the roller fly screen can be installed into the reveal between the plaster walls

VELUX FLY SCREEN FOR CENTRE PIVOT WINDOWS

If you have a centre pivot window and it extends past the reveal when opened then the fly screen is best installed inside the room onto the wall.

DURABLE COMPONENTS

Nylon components and aluminium frames to ensure trouble free operation and a long durable life.

Click here for our MESH SPECIFICATION

MOSQUITO MESH

There is a choice of our standard mosquito mesh which has 18/16 strands which is sufficient to help keep out most types of flies, mosquitoes, wasps, bees, spiders etc and it is available in grey decor or black mesh. The darker the mesh then the easier it is to see through as less light is reflected off the mesh.

MIDGE MESH

The midge mesh has a finer weave of 19/19 strands and it will help to keep out most small midges, as well as the larger flies. This mesh has been specifically designed for use in our roller fly screen system with the aim of maximising air flow but helping to keep out the smaller midge type flies.

TOUGHENED MESH

Our toughened mesh now comes as standard on our retractable insect screen ranges which will help to protect against the occasional pet claw swipes.

The screens are not designed to keep pets indoors and as pets are individuals and we cannot guarantee that a pet could not get through the mesh and so we would recommend using additional measures to keep pets indoors and to let them get accustomed to the mesh screen.

POLLEN MESH

Pollen mesh which keeps out flies and also pollen and other allergens. Our pollen mesh is Certified by the European Centre for Allergy Research Foundation (ECARF) and prevents the access of air borne particles and is invaluable for hay fever sufferers. This product comes with our personal guarantee of effectiveness as a hay fever sufferer I can now sleep with my windows open! The mesh is a knitted polyester weave of 12 x 7 stands per sq cm and is available in the grey colour

SUNOX MESH

All our roller fly screen ranges now come with Sunox mesh as standard which is naturally antibacterial. Sunox mesh filters the air, preventing the formation of germs and bacteria and reducing the presence of polluting particles in the air.

CHOICES

You can choose to have handles, pull cords, choice of pull weights or no base bar components at all and just use the decorative channel for operation

BRAKE

Optional internal brake that slows down the spring retraction system, this is especially useful where children may be using the screens and it helps to prolong the mesh life and protect it from damage.

HANDLES

The roller fly screen can be assembled with handles to draw the mesh out of the cassette, or if you want a more streamlined look the groove where the handles slide can be used to operate the screen

PULL CORD

Again there is a choice to have a pull cord or this can be left out of the unit, the image shows the pull cord with the standard end pull

OPTIONAL PULL WEIGHT

Choose from the standard nylon pull weight or the nickel pull for a more contemporary look

INTEGRAL BRUSH PILE

The side guides have an integral brush pile which ensures a complete seal with the insect mesh so no insects can pass through

STANDARD SIDE GUIDE

Our standard side guide comes with an integral brush pile to create the seal with the fly mesh

WIND PILE

If you live in a windy area then consider having our interlocking wind pile installed, the filaments lock into the mesh to hold it in position

BASE BAR

This is used where there is no window sill to seal to, the base bar is screwed to the window frame and the roller fly screen sits within it

BASE CATCH

Our standard base catch comes in white to match the cassette and sits on the external of the side guide. The catch is adjusted by turning the brass screw, just in case your window sills aren't flat, this catch is recommended for use with the midge mesh

INTERNAL CATCH

There is the alternative internal catch which fits neatly into the side guide but isn't adjustable

MEASUREMENTS

Click Here for instructions on taking measurements for your roller fly screens
REVIEWS
Easy to order- just measure the size of the opening . Easy to put up - Who knew it was easy to get screws into UPVC!? Order arrived very quickly and I am really pleased. This was the cheapest place I found for a made to measure patio doorway

tania berlow

Lovely looking once installed almost invisible. I'd recommend having the brakes installed as it slows down the mesh and having arthritis it means I can let go of the door.

Peter Long

The roller fly screens look great on my windows, not the cheapest option but great quality.

Iris Gloria

Perforated PVC strip door, great product, easy to fit and maintain

Kelvin Justice

Chain Fly Screens, great product fast delivery ready to hang, no messing around with assembly!

Declan Stewart

I purchased some roller fly screens for my home, very high quality product, I can see why they supply so many large companies, highly recommended.

Kenneth Duda

The hinged fly screens have good quality sturdy frames, excellent for use in my commercial kitchen.

Merrill Huston

Magnetic fly screens with pollen mesh. The product is good quality and has been a massive help during hay fever season.

Michael Sanchez

I purchased the roller fly screens for my windows. Very pleased with the quality and delivery was super-fast and they look great once installed almost invisible.

Gary Smith

My order was delivered quickly and was well packaged. As promised the magnetic screens arrived cut to size and are so easy to use.

Leon Ros

Purchased some hinged fly screens to keep my cats indoors, Andy was very helpful in recommending the correct screen and they have kept my cats safe. Super fast delivery and the screens came ready cut to size so they just slot together, easy for a DIY novice like me!

Gary Murray

Commercial purchase of panel fly screens for a busy industrial kitchen. Strong aluminium frames which will stand up to the daily use, great product easy to assemble.

নেইমার বস

My chain screen arrived very quickly, ready assembled, quick easy installation and looks great in the gunmetal colour.

Garry Baines

The double roller fly screens doors look great on my conservatory, very happy!

Lynne Mace

I purchased the magnetic fly screen with the pollen mesh option, they've been great through the unseasonable warm weather

Antonia Strott

We purchased the screens for use in our nursery business kitchen, very pleased with the quality, good strong frames, easy to assemble and install

Tanna Babcock

Super fast delivery of an excellent product that was a breeze to install, highly recommended.

Lashawn Mccool

Very pleased with the service received from Premier Screens.The owner of this company was very helpful in explaining everything about their products, extremely professional and communicative to all of my needs. A++ to their services.

Margaret Diaz

Terrific experience with Premier screens Ltd. I called them for the installation of commercial fly screen door at my office. Quotations were fair without any extra charges and no upselling. Installation process was very smooth from beginning to end. Please thank your team for the swift installation.

Briana Turner

I called them at Thursday morning to inquire about the best quality mesh which well suited to my house. They visited my home and suggested the most suitable screen for my windows and doors. Entire process was very smooth with them and quality of their materials was top-notch. I am so pleased with them. Highly recommended!

Eddie R

I ordered the fly mesh roll that measures 30 by 1.8 mts, really fast delivery and a great product. Extremely pleased with Premier screen services.

Keshawn F

I installed a set of double roller fly screens to my French doors, fairly straightforward installation and they look great and operate smoothly

Jean Charles

Fast delivery great product

Byron Jason

I have seven windows in my top-floor apartment and wanted to have fresh air without the flies that often accompany open windows. I found this company on the web and decided to order three magnetic screens as a trial. They arrived within three working days. Assembly of the frames was simplicity itself even getting the mesh tight in the frames was quite easy. Attaching the magnets to the window frame can be tricky if you have secondary glazing or decorative trim but the product is very well-made and feels solid, not cheap or low-quality. I can highly recommend these screens.

Sheryl Gina

The hinged fly screen was easy to assemble and is a great product, highlyrecommended.

Antonio Bill

I want to congratulate the candid and responsive staff of Premier Screens Ltd for their expertise and capability. You people guided me honestly for the fly screens of my business. I strongly recommend this company for any fly screens required.

Latasha Morgan

Premier Screens helped us to get customized screens for our place. We selected a sliding fly screen system for the hinged windows on our site as they were the finest version on the market and offered the most comfortable operation. The entire screening system is effective and durable, which makes it cost-effective. Their representatives presented on time, and synchronization and communication were first-rate within the team. The installers were neat, courteous, and skilled. Our home is so comfortable now that it's like paradise here. Thanks for your unbelievable efforts.

Eric Umali

The crew is very polite, extraordinarily brilliant, and ensuring that no damage is done during the installation process. The quotes are reasonable, and customer service is splendid!

Jennifer Ford

Premier Screens offered several options for our windows, and we choose the right one. The mesh material used was of top quality, and customer service is unmatchable. The crew is highly experienced and expert to know what materials and manufacturers to use to give excellent results. Thanks.

Tucker Turner

All I can say is flawless service, as our busy commercial kitchen required a sturdy, high-quality screen for flies and insects. Premier Screens Ltd. is the leader in insect screen to avail us all the help and advice we need to make our working environment safe, comfortable, and insect-free. They provide us with a comprehensive solution that is entirely compliant with the Food Standards Agency guidelines. Big thanks to the entire team!

Bennett P

The team successfully installed a roller screen for our windows as they are the best solution for our flat and occupying the minimum space available.

Kelly Woods

We had a pleasant experience in the process of choosing and installing the screens at our commercial site.

Aimee Soto

I ordered a double roller fly screen door, it arrived in 3 days and was very easy to install. It looks very good quality, and if we get a summer, will keep the flies out!

Paul Winters
Roller Fly Screens – Bespoke Sizes or Fitted By Experts
Our retractable fly screens for windows can be purchased in bespoke sizes with the cassettes ready assembled to your own precise measurements at trade prices! We also offer a professional fitting service for residential and commercial customers across the UK.
Retractable Insect & Fly Screens for Your Windows
How do our roller fly screen systems work?
The insect mesh is housed inside the aluminium cassette out of view and is kept taut by a tensioned spring, which is out of view, inside the cassette. The end of the mesh is held by a handle bar which enables you to draw the mesh out of the cassette and down over the open window. From the head of the cassette down to the window sill are two side guides, which allow the mesh to travel along and also creates a seal to help prevent any flies from entering your room.
Once the mesh has been pulled down to cover the window, the handle bar is held in place by clips which are fixed into the side guides, these prevent the mesh from retracting until you are ready to close the screen. When you release the handle bar from the clips the retraction spring takes the mesh back into the cassette.
Our pull down, window screens are easy to install and form a fully sealed unit to the window frame or reveal – helping to keep out all flying insects.