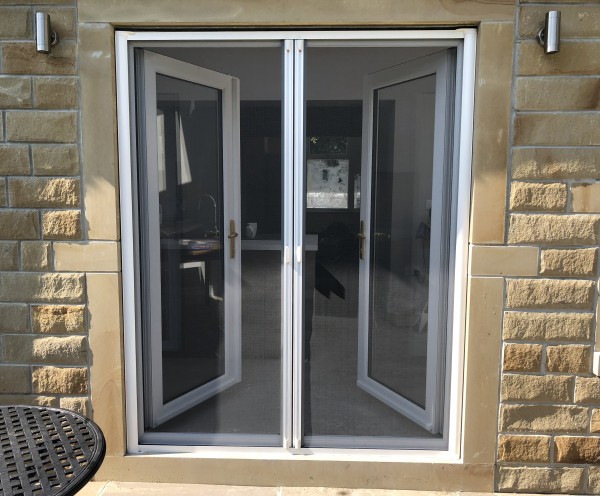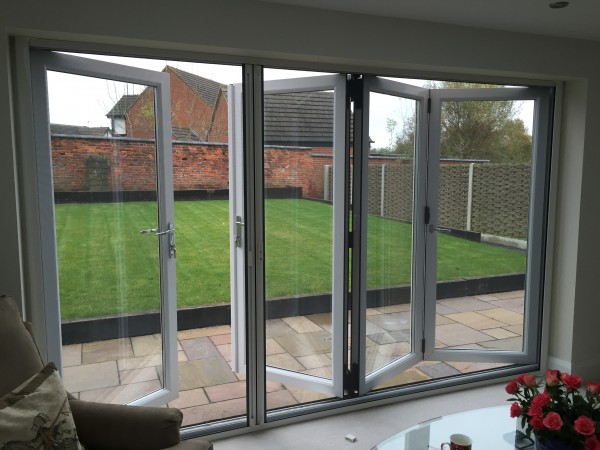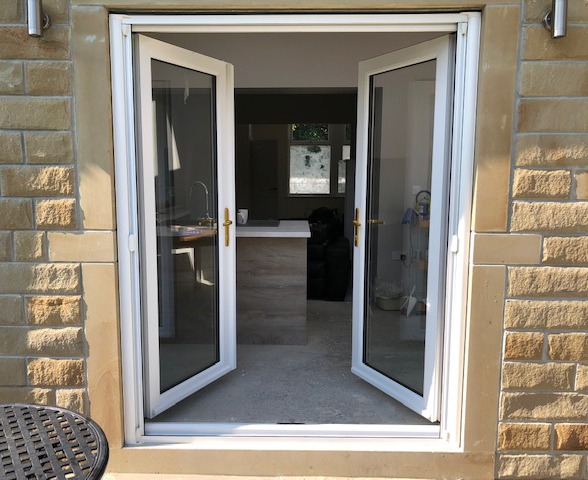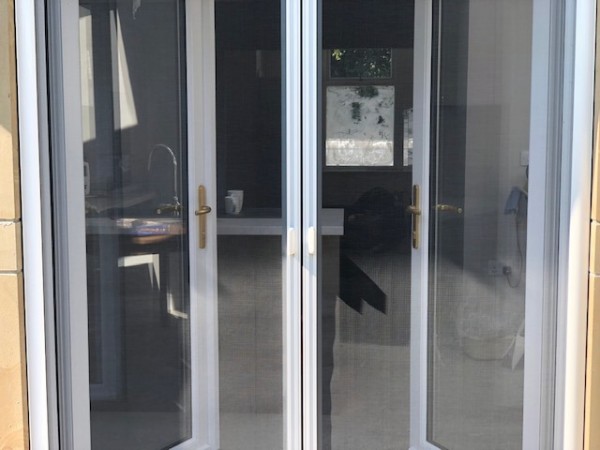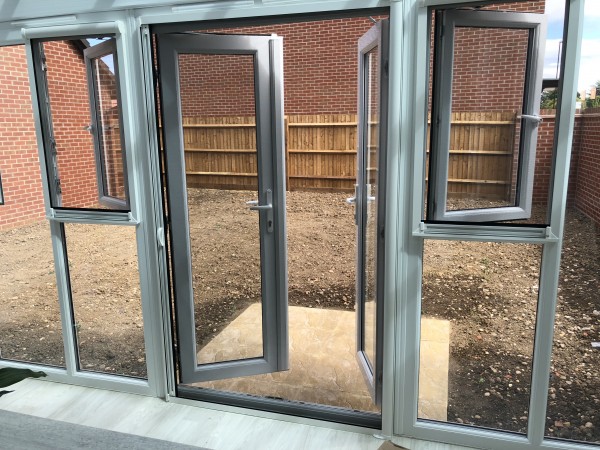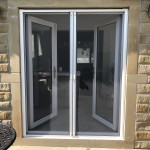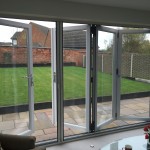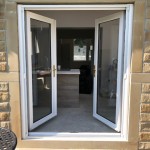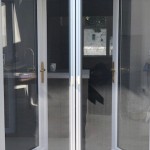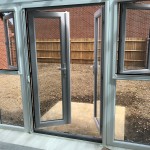 Double Roller Fly Screen Doors
£290.00 + vat
Our double roller fly screen doors are suitable for larger openings up to 5 metres wide
One of the most popular products that we sell at Premier Screens are our retractable double roller fly screen doors. Made to measure, these contemporary fly screens are custom made to fit every type of door imaginable ranging from sliding and bi-fold doors through to single, double and French or conservatory doors. They can be fitted both inside and out as they are manufactured from aluminium and they are completely weatherproof.
Our retractable roller systems also offer an excellent level of privacy whilst remaining easy to see through from the inside out. The quality fly screens we offer can be supplied to any home or business in the UK at the lowest achievable prices as you are buying direct from the manufacturer.
Premier double roller fly screen doors are quite simply the best on the market and as well as keeping out flying insects and other small pests – they are also effective against harmful UV sunlight and will also help to keep out the vast majority of airborne pollutants such as pollen or dust giving your rooms a more relaxing atmosphere.
Features of our double roller fly screen doors include:
Spring tensioned mesh that resists sagging
Polyester coated frames that resist chipping and scratching
Decor grey mesh or charcoal mesh that doesn't block out the light
Option of 19/19 midge mesh to help keep out smaller flies
Retraction brakes are available to prevent the door from snapping back into the cassette
Unique centre catch for double doors so one door can be left in place when opening
Option of wind pile for windy areas to keep the mesh in position
Adjustable end caps to allow for 15mm tolerance when measuring for reveal fit
Stronger pet mesh
Wheelchair friendly options
Provides protection from UV light as well as insects that will help protect furnishings and carpets from fading
They can be used on single or double doors
Check out the 'DESCRIPTION' tab below for a detailed explanation of the options available on the ordering section
Description
Fitting / Drawings / Specs
Description
MAGNETIC CLOSING SYSTEM

Full height magnetic strips ensure both the double and single rollers stay firmly closed

FLUSH FITTING PROFILES

Face fit – this option is where the screen will be installed directly onto the door frames

Reveal fit – the door will be installed into the recess surrounding the door

MOSQUITO MESH

There is a choice of our standard mosquito mesh which has 18/16 strands which is sufficient to help keep out most types of flies, mosquitoes, wasps, bees, spiders etc and it is available in grey decor or black mesh. The darker the mesh then the easier it is to see through as less light is reflected off the mesh.

MIDGE MESH

The midge mesh has a finer weave of 19/19 strands and it will help to keep out most small midges, as well as the larger flies, click here to see the mesh specification. This mesh has been specifically designed for use in our roller fly screen system with the aim of maximising air flow but helping to keep out the smaller midge type flies. It is normal to find dead midges inside your room behind the screen as the midges will fly into the mesh and then damage their wings and fall through the mesh holes, most midges however cannot fly through the holes in the mesh.
As there are over 500 different species of midge in the UK alone we cannot guarantee that all midges will be excluded from your rooms.

PET MESH

There is also a choice of pet mesh, the meshes aren't visibly different, they are treated to strengthen the mesh to help protect against occasional pet claw swipes.

As with all animals, pets are individuals and we cannot guarantee that a pet could not get through the mesh and so we would recommend using additional measures to keep pets indoors and to let them get accustomed to the mesh screen.

SUNOX MESH

All our roller fly screen ranges now come with Sunox mesh as standard which is naturally antibacterial. Sunox mesh filters the air, preventing the formation of germs and bacteria and reducing the presence of polluting particles in the air.

REVEAL INSTALLATION

The reveal fit option has the end caps and spring that will allow for a 15 mm tolerance on your measurements.

BRAKE SYSTEM

The brake system slows down the retraction of the mesh which enables you to let go of the mesh and let it retract automatically without it snapping back into the cassette

OPTIONAL CENTRE CATCHES ON THE DOUBLE ROLLER DOOR AVAILABLE IN WHITE

Optional centre catches on the double roller door available in white

INTEGRAL BRUSH PILE

The side guides have an integral brush pile which ensures a complete seal with the insect mesh so no insects can pass through

STANDARD SIDE GUIDE

Our standard side guide comes with an integral brush pile to create the seal with the fly mesh

WIND PILE

If you live in a windy area then consider having our interlocking wind pile installed, the filaments lock into the mesh to hold it in position

CROSS SECTION OF THE STURDY PROFILES

3mm aluminium sections making our profiles the strongest on the market.

PRE CUT

All of our screens come pre cut to your ordered dimensions, no need to reach for the saw!