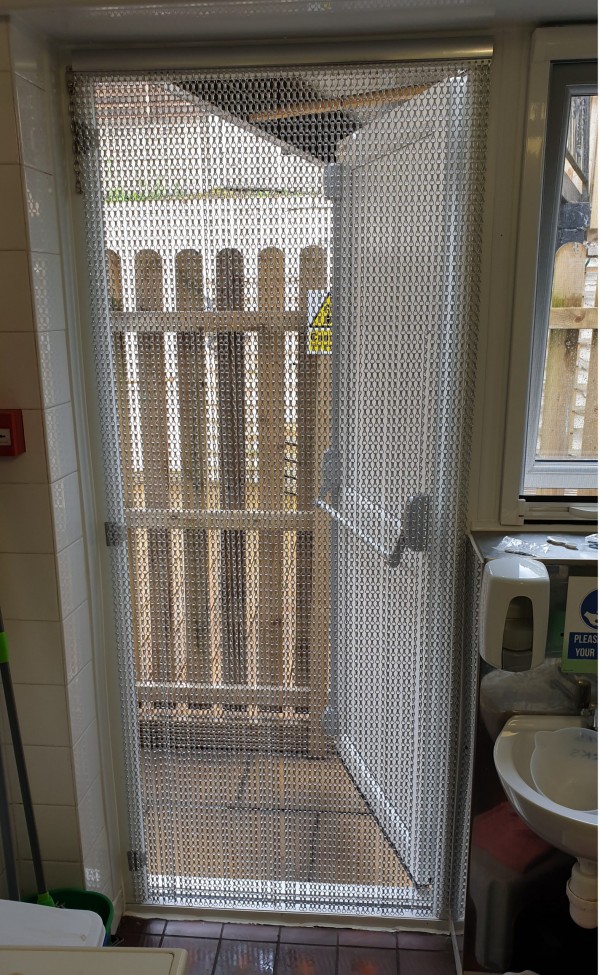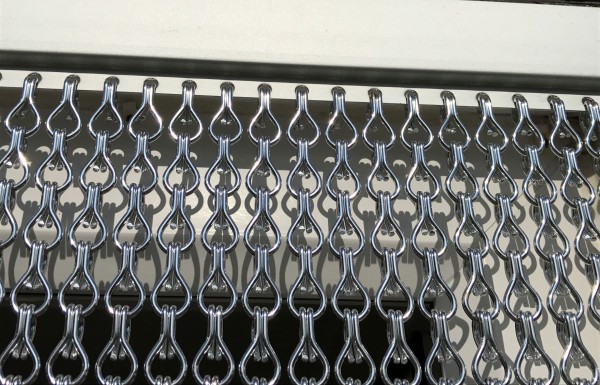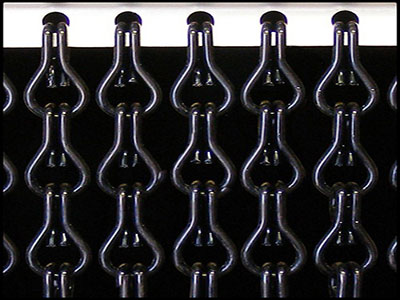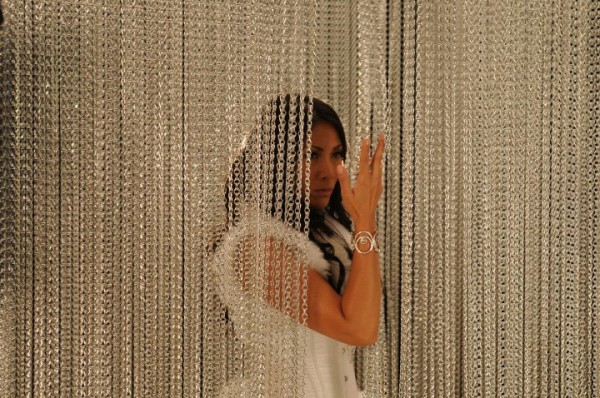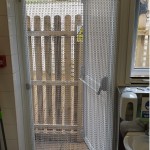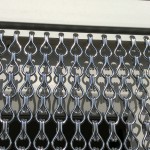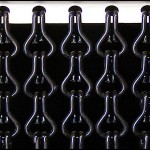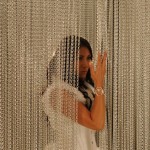 Chain Fly Screens For Doors
£68.00 + vat
Highly functional yet easy to maintain, our chain fly screens for doors are modern and stylish and are suitable for businesses and homes. The metal chain fly screens are simple to clean and the perfect choice for anyone seeking to keep flies and other winged insects out of the kitchen or living room on the hottest of days of the year whilst allowing a cool breeze to circulate freely. Easy to hang and remove, simply roll the screen up and store for winter!
In addition to providing chain door fly screens for smaller doorways, we also offer larger aluminium insect screens for bigger entrances. Our aluminium screens are supplied made to measure and are suitable for conservatory, patio, commercial kitchen or any doorway that you need to screen. We also manufacture the fly screens for use as room dividers and as large scale displays.
We can manufacture the chain screens to any dimension you may require in our durable, fully anodised aluminium which is guaranteed to be totally rust proof and can be used inside and outside, protecting your home or business property from all types of flying
insects.
Our standard colours are Silver and Gunmetal Grey which are UV stabilised and will not fade in the sun unlike the brighter colours. We also manufacture these screens in striped patterns which are functional and visually attractive.
Once fitted, our durable fly chain screen systems will allow easy access through any public doorway or corridor whilst additionally blocking out airborne debris such as leaves.
How will the door arrive?
It will be ready assembled to your ordered dimensions and come with pan head screws and brackets so you can choose how you wish to hang the door.
Are there any differences in Chain quality?
Yes, you will find that the cheaper the screen then the lighter the actual chain wire will be. The diameter of the chain can vary from less than 1mm to 2.2mm resulting in less weight which will allow flies to enter as the chains move around more freely. The cost of the chain is based on the weight of the Aluminium used, so the lower the cost the lighter the chain. Also to be totally rust proof they need to be properly anodised, again most cheaper options aren't fully anodised, but this will only show over time.

          ESTIMATED DELIVERY 2-5 WORKING DAYS
What measurements do I order?
The overall width and height including the top hanging bar which is 45mm, the height will go from the top of the bar to the base of the chains.
Description
Click on the images for a larger picture
ALUMINIUM CHAIN FLY SCREENS

High quality anodised aluminium chains that are designed to give a smooth 'soft touch' feel that are tangle free and anti snagging. Unlike cheaper brands our links are highly anodised and polished to give a super smooth finish that will continue to look new after years of use

EASY ACCESS

The chain fly screens allow easy access simply falling back into place protecting your rooms from flying insects
They are suitable for commercial and residential doors and windows and are also pet friendly with an easy walk through design

INFORMATION

The hanging bar is 45mm deep, the chain link size is 12 x 24mm and the anodised chain is 2.2mm in diameter.
The weight of the chain is 3.8kg's per sq metre.
Breaking strain of the chain links is 23kg's

CHAIN FLY SCREENS FOR DOORS

Our pet friendly chain fly screens are suitable for commercial and domestic doorways keeping flying insects out, allowing fresh air to flow indoors and providing a degree of privacy from the outside but easy to see through from inside.

GUNMETAL GREY CHAINS

The chains are available in bright silver and gunmetal grey

CHAIN FLY SCREENS FOR CONSERVATORIES

Our chain fly screens can be manufactured to any dimension required, the screens will come in 2 sections for openings larger than 1400mm

CHAIN SCREENS

Chain fly screens are very versatile and have been used as room dividers

DECORATIVE CHAIN FLY SCREENS

Chain fly screens as displays. We have manufactured many display chain curtains and our largest project was for a west end opera where we created a backdrop for a stage using over 30,000 metres of chain at display lengths of over 8 metres in length.

FIXINGS

There are 2 ways to hang a chain fly screen, either by the brackets which are fixed to the head of the door or with screws, again in the head of the door and the lip of the hanging bar sits on top of the screw heads

HANGING BRACKET

The image shows the hanging bracket option for the chain fly screen

VIDEO

Click on the image to watch a video on the chain fly screens
REVIEWS
Fast Delivery I purchased 5 roller fly screens with pollen mesh in for our bedrooms, they arrived within 3 days, really easy to install, look and work great. I'll definitely be getting some more for downstairs.

Magnetic Screens Very pleased with the magnetic fly screens, easy to install and take down.

Roller Door Very pleased with the quality, perhaps should have chosen the grey mesh as the black is almost invisible

Hinged Panel Screens Easy to fit very effective

Magnetic Screens I purchased these screens with the pollen mesh option and am very pleased with the quality of the frames and mesh, super fast delivery

Roller Fly Screens Super fast delivery of an excellent product that was a breeze to install, highly recommended.

Chain Fly Screens Fast delivery, made to measure, keeps out the flies!

Great Product I have seven windows in my top-floor apartment and wanted to have fresh air without the flies that often accompany open windows. I found this company on the web and decided to order three three screens as a trial. They arrived within three working days. Assembly of the frames was simplicity itself; even getting the mesh tight in the frames was quite easy. Attaching the magnets to the window frame can be tricky if you have secondary glazing or decorative trim but the product is very well-made and feels solid, not cheap or low-quality. I can highly recommend these screens.

The team successfully installed a roller screen for our windows as they are the best solution for our flat and occupying the minimum space available.

I want to congratulate the candid and responsive staff of Premier Screens Ltd for their expertise and capability. I was advised on the best screening solution for my business.

Premier Screens Ltd delivered a durable solution of getting rid of flies and mosquitoes, excellent product

We had a pleasant experience in the process of choosing and installing the screens at our commercial site.

The staff were very polite and really careful ensuring that no damage was done during the installation process. The quotes are reasonable, and customer service is splendid!

Premier Screens offered several options for our windows, and with their help we choose the right one. The mesh material used was of top quality, and customer service is un-matchable. Their staff were very knowledgeable and provided the best solution for our home. Thanks.

All I can say is flawless service, as our busy commercial kitchen required a sturdy, high-quality screen for flies and insects. Premier Screens helped us with all the advice we needed to make our working environment safe, comfortable, and insect-free. They provide us with a comprehensive solution that is entirely compliant with the Food Standards Agency guidelines. Big thanks to the entire team!

Great Product Magnetic fly screens delivered really fast, easy to install, look great. Not the cheapest option but high quality.

Fast Delivery I ordered 5 roller fly screens and they arrived within 3 days! Excellent product very pleased.

Happy Customer The double roller fly screens doors look great on my conservatory, very happy!

I ordered a double roller fly screen door, it arrived in 3 days and was very easy to install. It looks very good quality, and if we get a summer, will keep the flies out!